Unlocking the transformative potential of your organization
Access a globally distributed community of creative leaders and change architects unrivaled in experience and expertise, unmatched in efficiency and results. Build a bespoke on-demand TRIBE today and find solutions to your biggest challenges.
The HUMAN approach
We exist to reveal, rewrite and revolutionize the way humankind experiences the world with purpose and meaning.
Elite researchers, thinkers, storytellers, makers and explorers
The HUMANS you meet are the TRIBE you'll work with. There is no B team.
Global HUMANS with local knowledge
Your TRIBE will be made up of HUMANS locally and from around the world. Every HUMAN is a leader in their field.
Simplify and distill global challenges
HUMANS make global challenges understandable and emotionally relevant to each and every person.
Serve every customer type
Businesses serve a wide variety of customers. HUMANS make sure your story appeals to them all.
Change business for good
HUMANS understand the importance and value of work that changes the world for the better.
Make meaningful solutions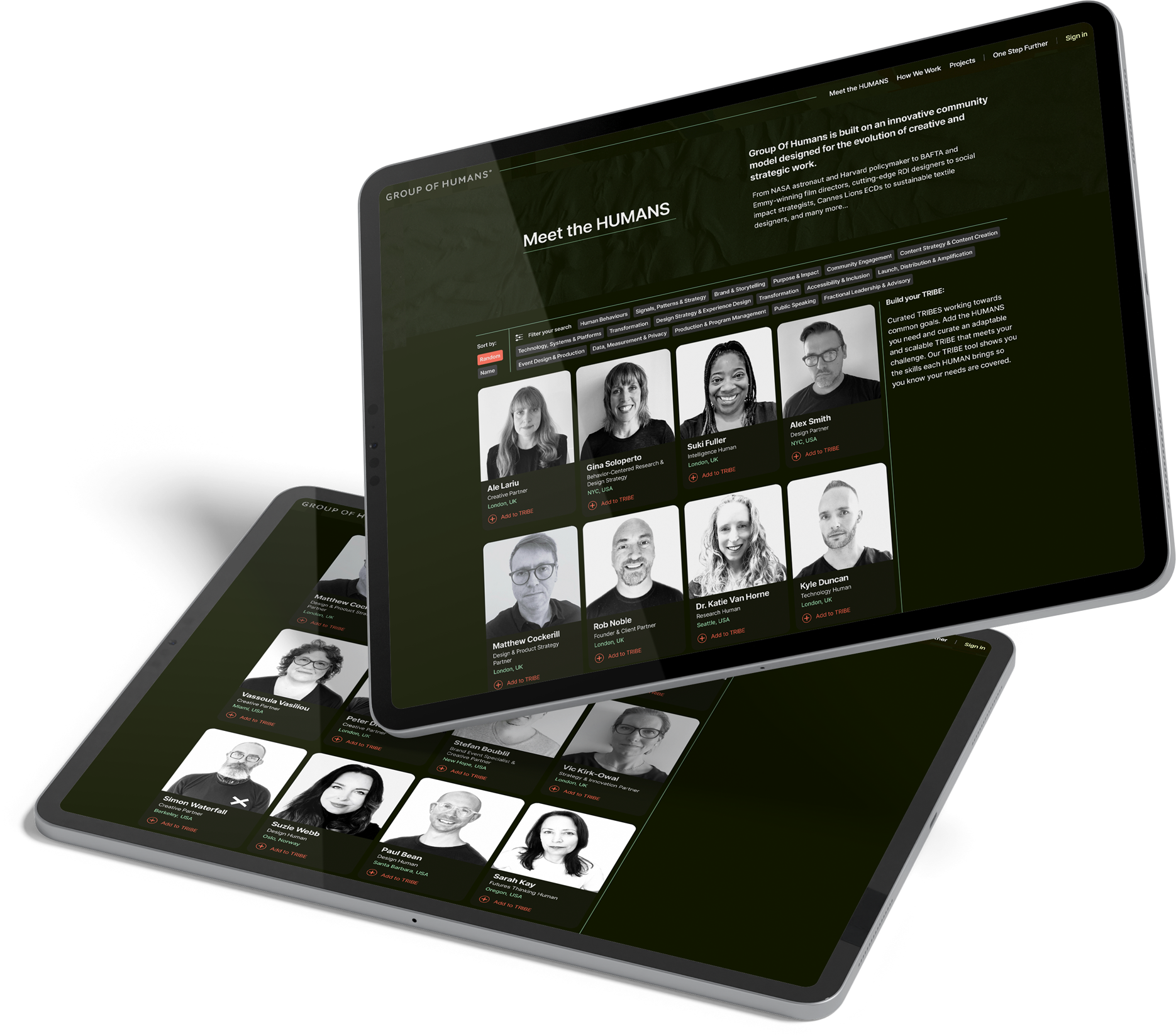 Meet the HUMANS
HUMANS are diverse and extraordinary, adept at solving global challenges for the universe's biggest brands. Flexible and collaborative, we work cooperatively in TRIBES. We can help curate your TRIBE or you can use our TRIBE platform to build your own based on the outcomes you want to achieve. HUMAN Intelligence
We are distributed and diverse not just geographically, but also creatively and philosophically. Adaptable and scalable, we combine our talents, experiences and viewpoints to create fresh perspectives and new insight that meet global challenges.
Our HUMAN Intelligence newsletter on LinkedIn explores themes that probe the minds of our curious, creative and collaborative HUMANS.
The Future is HUMAN
Group Of Humans represents 
the future of creative and strategic work.
We do not work to any traditional business or agency model. We are a creative community building on already exceptional careers to move humanity towards better outcomes. If you want to use your intelligence and experience in this way to share your wisdom, communicate with others, and be an active participant, Group Of Humans could be right for you.
Every HUMAN is free to choose which projects they work on because that work inspires them to move forward. But every HUMAN is expected to be an active member of our community, to contribute to our collective goal and challenge each other to do better – to be better.

If you think Group Of Humans is right for you, send us your résumé and tell us why you should become a HUMAN.